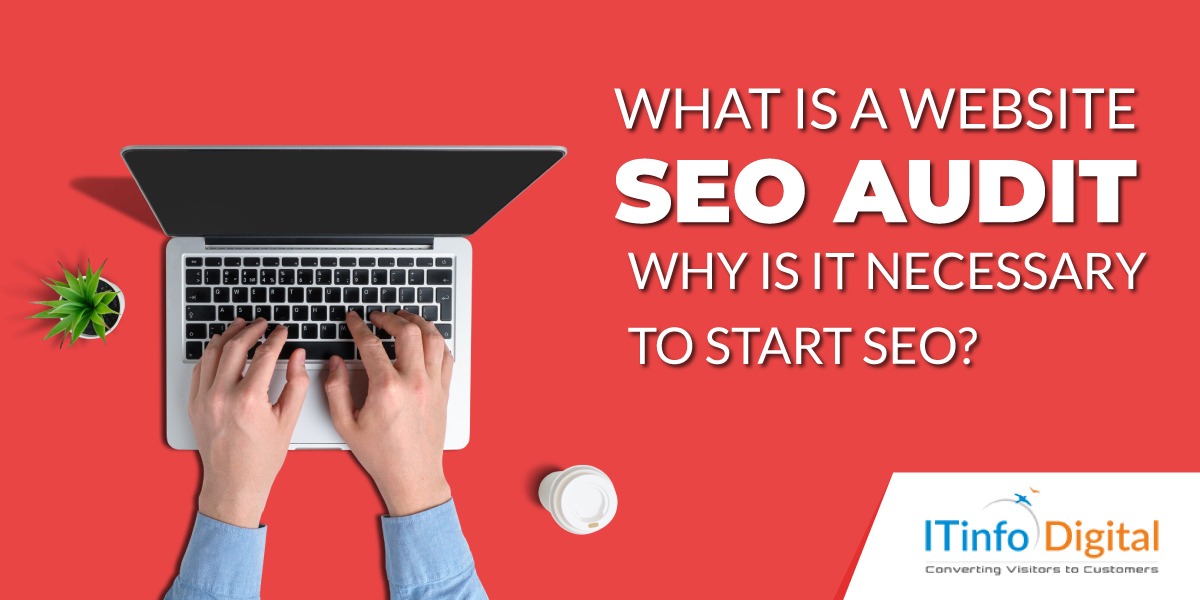 Have you invested lots of time and money in your website? But you're not still getting organic traffic, and you don't know what is preventing my site from ranking in search engines.
For this, an SEO audit of your website is required, and that's what you're going to explore in this guide.
What is a Website SEO Audit?
SEO audit is the technique of finding issues affecting the ranking of the site and fixing them to hold top positions in search engines. It is a health check of the site that will give you deep insights into your website to improve the overall performance in SERP.
SEO audit reveals the various issues such as content-related issues, design & structure issues, on & off-page issues, link building issues and technical issues. The SEO audit report gives a blueprint of steps that you have to take to resolve SEO issues.
Why is SEO Audit Essential for Websites?
A health check of a website is necessary, and it should be done at regular intervals to meet search engine requirements. The benefits of an SEO audit are
To hold Top positions in SERP – Do you want to reach more organic visibility? Yes! For this, you've to increase your website's SEO score and make this happen; an SEO audit is essential.

Search engine loves websites which loads faster because it gives better user experience. SEO audit finds speed related issues on your site and helps to fix them.

It reviews your competitor's website based on SEO to find what you can do to reach more audiences.

It identifies on-page, off-page, and technical issues on your site to improve the performance and SEO score of a site and directly leads to generating more revenue.
What Factors to Focus on Audit?
To get fruitful results, you need to focus on some major factors that directly impact a site's SEO ranking. Following are the main factors to focus on during SEO auditing.
Design & Speed Audit
To know the usability, accessibility of your website, consider performing a design and speed audit. Speed audit will tell you the page load time, which elements are taking time to load, and many more website speed issues. Many websites take lots of time to load, which leads to low traffic. Both Google and user don't give preference to low-speed websites. Speed audit helps to find out the factors taking time to load and improve these factors to reach more audience.
Next is the Design audit, and it helps to know what difficulties your potential audience is facing due to the website interface, organization and structure. It's a great idea to make the website more attractive but keep in mind, design should be user and device friendly.
Content Audit
Content Audit is the process of evaluating the whole content based on KPIs (Key performance indicators). It gives you the following content insights of your website.
Best performing content

Most engaging pieces of content on site

Which content is increasing bounce rate?

Identify duplicate content

Tells you what content is to generate next time

Which content is getting more lead conversion?

What type of content does your audience like, whether text, images, videos or infographics?
After performing a content audit, you will decide which content to keep, update and delete.
On-page Elements Audit
The on-page elements include:
The page title.

Meta description.

Alt tag.

Heading & subheadings.

Content structure & length.

Keyword density.

Media elements like images & video.

Internal linking and URL.
An on-page SEO audit evaluates all these elements and tells you how to optimize on-page elements to improve search engine rankings perfectly.
Optimize on-page elements with a keyword for which you want to rank in SERP. On-page optimization will help search engines to understand your content better.
The On-page SEO audit analyses factors such as
Do your posts have a clickable and eye-catching title tag?

Is Meta description is SEO optimized and encouraging the clicks or not?

Do all the heading and subheadings are well-optimized?

Are your articles linking to another piece of content within your website?

Do images have an alt tag?
Technical Elements Audit
The next important check is the technical wellness of your website. It includes the elements such as redirection, broken links, robot.txt, canonical tags, sitemap, duplication, crawls errors, indexation, domain issues, device optimization, security issue and URL Structure.
If your site is facing the issue of broken links, content duplication, crawling, and any other technical issue, it will drop your ranking in the search engine. To avoid this situation, always keep your eye on the technical elements of a site.
The technical Audit will give you a complete analysis of your website to fix critical technical issues.
Link Analysis
Link building is another important factor that influences the ranking of a website. Link analysis evaluates all links that are pointing back to your website. Quality backlinks increase your site's page authority (PA) and domain authority (DA), and you can rank for high competition keywords. On the other hand, low-quality backlinks have a negative impact and increase the site's spam score.
So, while making links to another website, link analysis is an important factor that ensures the quality of links on your site.
Tools Useful for SEO Audit
We have discussed different factors to focus on while performing an SEO audit. Are you excited to know how to perform an SEO audit of a site?
Luckily, you don't need to check all these factors manually. To automate this process, various useful SEO audit tools are available in the market. Here is the list of the top 5 SEO audit tools.
Semrush (Premium version only but provides 7-day free trial)

Moz (Free and Pro version)

Woorank (Premium only but provides a 14-day free trial)

SEO Site Checkup (Premium only + 14-day free trial)

Screaming Frog (Free and Paid version)
If you're getting no organic traffic or even facing downtime in traffic, then you should perform an SEO audit of your website. The search engine requirements are frequently gets changed. To meet the requirements of search engines, always keep your eye on search engine optimization (SEO). Moreover, with an SEO audit, you can check health, security, content & design issues and fix these issues to provide a better user experience. ITinfo Digital is a full-service Digital Marketing agency in Hyderabad, helping clients grow their business online with latest digital marketing strategies. Being an Expert in the Industry for the last 14 Years, We can Assure you of the best SEO Results, including SEO Audit and Other Reports.