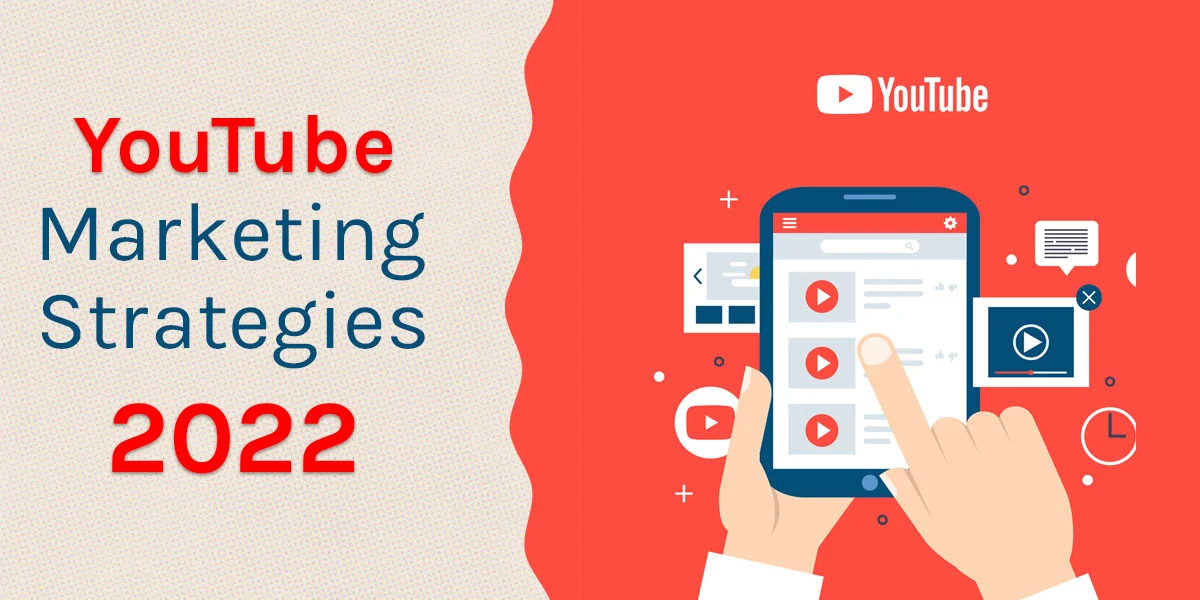 YouTube is the number one video streaming service online. Almost everyone on the internet is on YouTube. Whether it is for a cookery video or to see trailers of films, YouTube is in everyone's mind. So let's look at different ways in which you can use YouTube marketing Strategies to get higher traffic to your business.
YouTube is a subsidiary of Google and is mainly used for video streaming. From films, trailers, interviews, ads, and many other things, every kind of video content can be found on YouTube. YouTube generates revenue through ads that pop up in between videos. That's where you can target your audience.
The benefit of YouTube Marketing
Let's have a look at the benefits of YouTube marketing-
Over 4 billion videos are viewed daily on YouTube, meaning the highest traffic rate
YouTube marketing is considered part of SEO, meaning exposure in google results
Durability of content
Size doesn't matter
Your audience will promote your content
An email list can be made
Direct interaction with users using YouTube Live
Earn money through your videos
Follow these steps for YouTube marketing strategy 2022
Let's look at steps that can be part of your YouTube marketing strategy in 2022.
Create a YouTube Channel for Business

Creating a YouTube channel is just like setting up a business. First, you need to upload the profile picture or logo and the cover photo. This is where everyone will come first for your channel. You can also add links to your main website and social media accounts here. Next, use Bio and Description to tell people about your business and what you are trying to achieve through the channel.

Create Content Plan & Consistently Publish the Videos

Almost all YouTube content creators stress the method of regularity. Regular posting of videos allows you to maintain quality over quantity. When you are regular, the audience will be able to anticipate the content, and they will be engaged. For that, you need to create a content plan ahead of time and then be consistent with the publishing of the videos.

Leverage YouTube Tools & Features

YouTube offers tons of features to leverage the marketing benefits. There are shorts, a premiere and many other things. A single video can do a multitude of benefits for you. You need to be aware of these things. Do you know that you can premiere your video on YouTube? This will help you in live interaction with potential customers. Also, you can inform your audience about the premiere beforehand, leading to good engagement.

Optimize Your YouTube Video Description and Thumbnails

What is the first impression when someone searches for your video? They look at the thumbnail. That is where the first interaction happens, and you can leverage that easily. YouTube allows you to make a thumbnail from a video, or you can upload an image that is customized. Then the description. A description can do wonders for your business. In the description, you can give a link to your products and more.

Use YouTube Tags

Social media is filled with tags. They are like anchor points to search anything. For example, you can use YouTube tags to leverage the benefit of targeting the audience. When someone searches for the relevant video, they will direct to your content. Follow the trending hashtags and see how you can use them.

Learn about your audience

Can't leave that out of the list. You need to be aware of your target audience. What are they looking for? When you know it, you can use the strategy to hook them into buying your product and going for the business. Not everyone loves music videos. Similarly, not everyone will be hooked by animation videos. You need to understand their psyche.

Research your competition

The best way to find your niche and build your strategy is to learn about your competitor. What strategy are they following? Why do their customers are loyal to them? What are they offering you can offer that in a better way? These questions will lead you to a good strategy for your business.

Invest in YouTube ads

YouTube ads are far better than any other ads. Why? Because they are graphic and video-based. They are better than text. They can say a lot about your brand in 5 seconds than text. So this can be used in your marketing strategy to gain a higher advantage. Investing in your YouTube ads can do wonders for your marketing strategy.
Final Words
Finding a good YouTube marketing strategy depends on the good insights and good info about the workings of YouTube. You will need a considerate plan that is backed by the right research. That's where ITinfo digital comes into play. They have a consistent team of YouTube researchers and marketing experts using their expert knowledge to provide good results. Researching your competitors, building content, creating ads, and many other aspects of Youtube marketing are handled expertly by ITinfo digital. So want to grow your business on Youtube? Come to ITinfo Digital.