Are you a Car Dealership? Looking for digital marketing strategies for car dealerships? You are on the right blog.
Purchasing a car in the usual traditional method has taken a turn. The present technology grasps the top position where a buyer acquires knowledge about the latest model cars, compares them, and finalizes the best car with just a few clicks online. Technological advancements have influenced customers in different ways online.
Hence automobile domain grabs the opportunity of advanced tools to reach customers online. Digital marketing strategy in the automobile business helps in unlocking high target profits. There are copious digital marketing strategies in the business world. As a car dealership choosing the best digital marketing strategy and applying them for business is a smart way. Let us run through a few digital marketing strategies for car dealerships.
Importance of Digital Marketing for Car Dealers
Before stepping into a dealer, all car shoppers research online regarding purchases. Incorporating digital marketing strategies is a brilliant way to turn online visitors into customers. By summing up consumer behavior, it is evident that consumers prefer choosing automobiles online.
The MHP 2018 reports reveal that two-thirds of customers go online for a car purchase.
About 95% of car shoppers pick online when it's time to purchase a new car.
Moreover, automotive searches of about 60% are from online sources.
Adtaxi reports state that 86% of car enthusiasts first hunt before visiting the nearest car dealers.
The Cox automotive study conducted in 2020 articulates that a customer spends nearly fifteen hours researching, visiting dealers, shopping, comparing prices, negotiating, etc.
In the above case, about nine and a half hours were only online.
The automotive industry is escalating toward digital marketing for the following reasons.
The cost comparison shows that digital marketing costs a fraction of traditional marketing techniques, and the profit generation hits the jackpot.
By choosing digital marketing for car dealers, the reach for a massive audience is a cakewalk.
With digitization, car suppliers develop a personalized experience that supports lead conversion through individual clients.
With digital marketing, the Ad campaign results for suppliers are measured.
The companies can grow demographic profiles for possible leads through digital marketing.
From the above data, online presence and engagement with customers are essential for digital marketing car dealers. Automotive industries should present to customers through an online presence that drives profit. Hence digital marketing plays a crucial role in the car dealership.
Top 8 Digital Marketing Strategies for Car Dealerships
In the automotive industry sector, digital marketing strategies effectively bond with the audience and transform them into customers. The goal of car dealerships focuses on enhancing the customer base and digital marketing stands as a stepping stone to growing and achieving such goals.
Every digital marketing technique is unique and works tremendously to generate sales if incorporated and utilized appropriately. It is always a better way to think outside the box and bring about excellent strategies for car deals.
Digital marketing in the automotive industry has portrayed a drastic change, and hence we have gathered a few digital marketing strategies for car dealerships. The below guide proves beneficial as it shows the most important digital marketing strategies for car dealerships.
1. Local SEO for Car Dealerships
Local SEO for car dealerships is the process of optimizing a dealership's Google Business Profile and online presence to rank well in local search engine results. This can include optimizing website content and meta tags, building local citations and backlinks and encouraging customer reviews. By improving their local SEO, car dealerships can increase their visibility to potential customers in their area and drive more traffic to their websites.
Customers find car dealers by researching through search engines with car-associated terms or directly reaching the websites. In such scenarios, optimizing SEO plays a prominent role. Remember to optimize the website for local SEO, so that car enthusiast residing in your SEO reaches you.
Local SEO takes a key position as customers utilize their mobiles for online searches. People keep hovering around the local and looking for results to get a pizza or Ford 150. Hence setting up an account and incorporating the local geographic results and address in Google my business is essential.
Areas Car dealerships should focus on Local SEO for better ranking:
Google My Business: This is a free listing service offered by Google that allows businesses to manage their online presence across Google, including search and maps. By verifying and optimizing your dealership's Google My Business listing, you can improve your visibility in local search results.
Local citations: These are mentions of your dealership's name, address, and phone number on other websites. Building citations from reputable sources, such as online directories and industry-specific websites, can help boost your dealership's local search rankings.
Reviews: Positive customer reviews can have a significant impact on local search rankings. Encourage customers to leave reviews on your dealership's Google My Business listing, as well as on other review sites such as JustDial, Sulekha, Facebook, etc.
Content: Create content that is optimized for local search. This includes using keywords that include the dealership's name and location in the title tags, meta descriptions, and the body of the content.
Mobile optimization: make sure your dealership's website is mobile-friendly, as more and more customers are using their mobile devices to search for local businesses.
By implementing these tactics, car dealerships can improve their local SEO and increase their visibility to potential customers in their area.
2. SEO Strategy for Car Dealerships
SEO or search engine optimization influences the car dealership more than any other digital marketing strategy. Choosing the right SEO company in Hyderabad to optimize the website is ideal for better rankings. SEO improves the website and supports a higher ranking on the search engine results page.
These SEO tactics for dealerships can include:
On-Page Optimization: This includes optimizing website content, meta tags, and images for relevant keywords related to the dealership, such as "used cars", "car prices", and "car service".
Backlink Building: Building high-quality backlinks from other reputable websites can boost the dealership's website authority and improve its search engine rankings.
Content Marketing: Creating and publishing valuable, informative, and engaging content on the dealership's website can attract organic traffic, increase engagement and boost the website's credibility and authority.
Technical SEO: Ensuring that the dealership's website is mobile-friendly, has a fast loading speed, is secure, and has a proper website structure, can help the website rank better in search engine results.
Tracking and Analyzing: Monitoring the website's analytics and tracking the results of SEO efforts can help the dealership understand which tactics are working and which are not, and make necessary adjustments accordingly.
PPC for Car Companies
The best and most incredible online advertising tool that holds a prominent place in digital marketing strategy is none other than the PPC or pay-per-click. Pay-per-click (PPC) advertising is a form of online advertising that allows car dealerships to place their ads at the top of search engine results pages (SERPs) for specific keywords. When a user clicks on one of these ads, the dealership pays a fee to the search engine. PPC advertising can be a powerful tool for car dealerships to drive targeted traffic to their website and generate leads and sales.
One of the most popular platforms for PPC advertising is Google Ads, which allows car dealerships to create and run ads on Google search and other sites in the Google network. Other platforms include Bing Ads, which allows for advertising on Bing and Yahoo search engines.
When creating PPC campaigns for car dealerships, it is important to set specific goals, such as driving website traffic, and increasing leads or sales. Car dealerships should also target specific keywords related to their inventory, location, and services.
Implementing PPC advertising for car dealerships can involve the following steps:
Define your goals: Determine what you want to achieve with your PPC campaigns, such as driving website traffic, increasing leads or sales, or promoting a specific product or service.
Set a budget: Decide on a budget for your PPC campaign and set daily or monthly limits for your ad spend.
Research keywords: Identify the keywords that are relevant to your dealership's inventory, location, and services. Use keyword research tools to find the keywords that have the highest search volume and relevance.
Negative Keywords: Regularly adding negative keywords to the list is essential to eliminate irrelevant searches.
Create ad groups: Organize your keywords into ad groups based on their relevance and themes. This will make it easier to create and manage your ads.
Create Responsive Search Ads: Create compelling ads that include your targeted keywords, a clear call-to-action, and a link to your dealership's website.
Launch the campaign: Once your ads are created and your budget is set, launch your campaign and start driving targeted traffic to your dealership's website.
Monitor and optimize: Keep track of your campaign's performance and make adjustments as needed. This can include testing different ad copy, targeting different keywords, or adjusting your budget.
Display Ads for Automobile Dealerships
Display Ads serve as the preeminent attention-grabbing digital marketing strategy for car dealers. These ads pop up at the sides of various websites. Such a strategy triggers the buyer at every step of proceeding with the purchase process. By incorporating display Ads for car dealership businesses, the generation of leads heightens, and better traffic to websites, the paid campaign performs better in car dealership deals.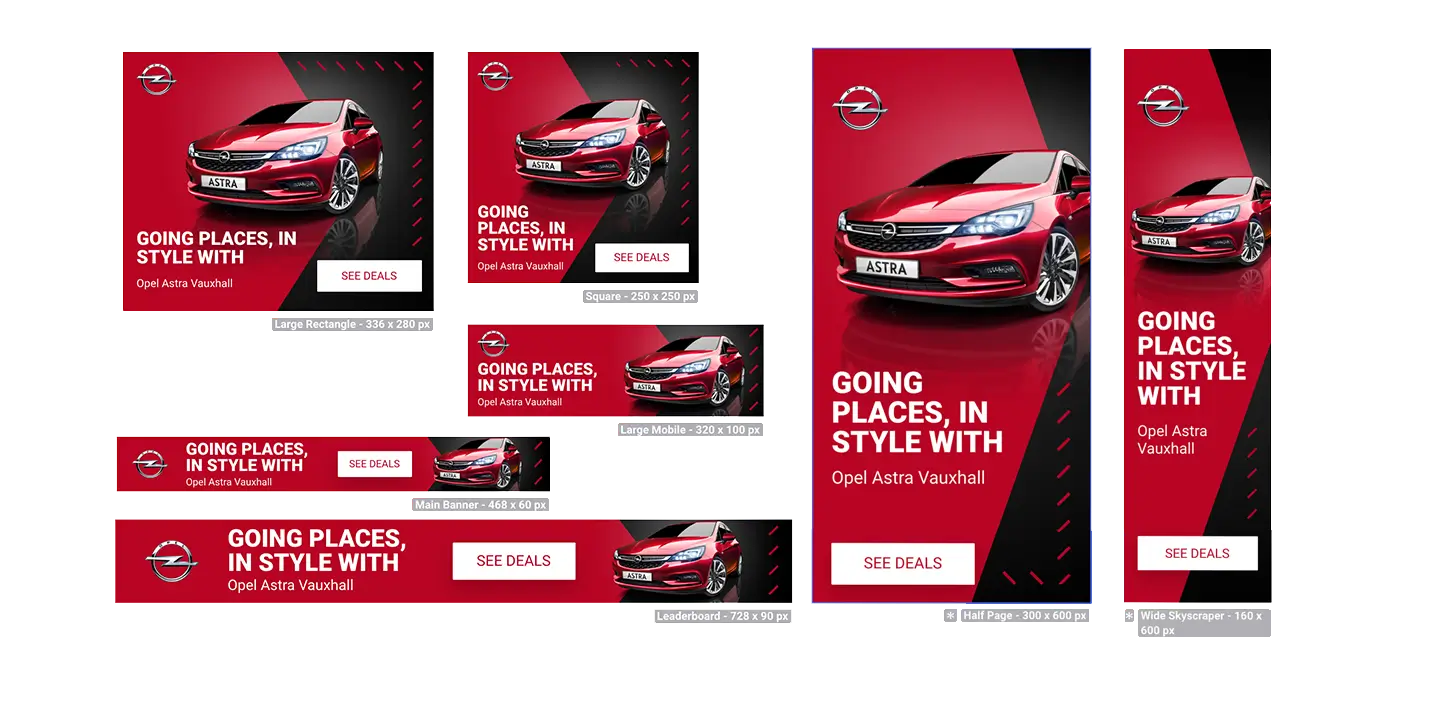 Display Ads are an inordinate strategy as they assist in raising brand awareness, escalate search, and present the car dealership message before car enthusiasts. The primary practices of display ads include
Advertising on sites to grab the attention of in-market buyers.
The metrics are compared after the tracking process.
Building captivating ads
It is always good to optimize display ads. Based on time spent on sites and bounce rates, avoiding placements is better. With high-quality traffic, it is evident that more time is spent on websites, and the bounce rate is lower. By linking analytics accounts and Adwords, detecting and eliminating low-performing placements is easy.
It is crucial to develop effective display Ads for the car dealership sector. Consider a few factors about display Ads, which help develop exceptional ones.
Bear in mind that standard image ads render better creative control and responsive ads are efficient.
Make it a point to focus on promotions, prices, and selling points.
Always optimize, refresh and test ads.
All these aspects conclude display ads as a better digital marketing strategy to escalate car dealership business to greater heights.
Remarketing
Online advertising and associating with a customer who already showed interest in your website is remarketing. The above is an excellent and cost-effective way to heighten sales as the car dealer's friendship with customers who are already interested in the product. As we focus on past customers who have already visited the webpage, it is called remarketing. It could also be considered a second opportunity to retain, convert or sell utilizing online campaigns.
Remarketing is possible with different platforms such as Google Ads, outbrain, or Facebook Ads. As we dig in deep, remarketing falls into various types: standard, dynamic, video, and email remarketing. The remarketing strategies are copious where the car dealer industry determines the techniques appropriate to their industry.
Social Media Marketing
Social media is an indispensable platform for digital marketing. Reports from the chief marketing officer council state that 38% of consumers consult social media platforms before purchasing a car. It is true that with the invasion of social media platforms into our lives, customers spend hours on social media platforms such as Twitter, Facebook, Pinterest, and Instagram for purchasing automobiles. Marketing through these platforms is a cakewalk and an extraordinary way to associate with customers.
Owning an account or business page for every social media platform is necessary to flourish in social media marketing. Post content and Ads regarding cars regularly for improved customer linking. Always share helpful and engaging content, which helps social media marketing grow. For businesses desiring to grab the technology traction of today, social media marketing is a must.
Running ads on social media is an excellent way for used or brand new cars. For capturing leads, lead form ads are a great way. The inquiry forms in lead form ads help users fill the format directly from Facebook. Ads on the Facebook market page helps customers message staff directly and get in touch for details. Hence, social media marketing is a vital digital marketing strategy for car dealerships, without a doubt.
Social Media Ads
The new marketing environment mandates car dealers to enhance their marketing strategies and associate with customers. Social media Ads are yet another profitable digital marketing strategy that paves the way for customers to bond with car dealers. Social media ads are paid ads that work flawlessly on social media domains to connect with target audiences. Car dealers and advertisers promote their brands and boost sales through various social media platforms.
By looking at the statistics of social media advertising, it is said that
7 million and more businesses utilize social media as their primary source of advertising.
Nearly 26% of customers tap on Facebook ads for their desired product and purchase it.
The CMO survey reports reveal that by 2023, brands will work to double their budget for social media advertising.
Hence social media ads play an excellent role in the car dealership business. By choosing social media ads to enhance sales for the automotive industry and hold hands with customers, it is essential to take a peek into the main components to consider for conducting social media ads. The primary elements to consider making social media ads successful are
Target audience
Campaign overview
Creativity of the ad
List of social media platforms to target
Campaign success metrics and budget.
With proper planning and execution, social media ads for car dealerships make the business succeed.
Email Marketing
Email marketing for a car dealership is effective and portrays potential reach to customers despite being an old strategy. Gathering an email list is simple by drafting data from previously visited customers. With the list, preparing interesting, short, and sharp emails that captivate the customers helps initiate the relationship with the customer. The messages should be so that they are clicked and read by customers.
A good piece of advice is to research and learn the email marketing tips as poorly drafted emails result in moving to bin or less traffic to the site. Car dealers also can get rented data lists and proceed with email marketing. Customers who sign up for particular car dealers get the advantage of receiving newsletters, updates, special deals, discounts, car models, and more car buying tips. Hence email marketing is another productive way of marketing that drives sales.
Also Check-out: Digital Marketing Strategies For Health Care Industry
Conclusion
At ITinfo digital, we pride ourselves on our extraordinary service for car sales through digital marketing strategies. As we hold years of experience in handling clients in the automotive industries, we follow a consistent marketing strategy for the automotive industry for clients' success. Our team of experts ensures to determine the perfect digital marketing strategy for the car dealership. We help the client apply the right digital marketing strategy to bring quality leads and generate success in the car dealership business. Hence, holding hands with IT info digital for digital marketing strategies for a car dealership is a brilliant way.